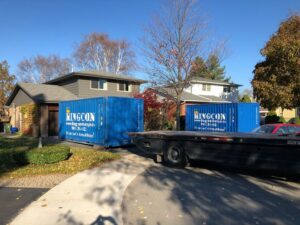 Moving is always a stressful time. Whether you are moving for a job, just purchased a new home or down- sizing, being organized can make your move go a little smoother.
We have put together a moving checklist to help you get organized before move day.
Remember you can book your Kingcon Moving Unit weeks or days before your move so that you can pack at your own pace.
Be sure to book ahead so that you can get your preferred delivery date.
Give Us a Call if You Have Any Questions.
Moving Checklist
First step – create a file called "Moving."
De clutter your house before you start to pack.
Make a list of friends, relatives and business associates to notify.
Arrange change-of-address service with Canada Post
Pack personal papers and records separately and keep handy.
Contact utilities
Collect boxes from grocery or liquor store
Purchase wrapping paper, bubble wrap, markers, rope and sealing tape.
Make arrangements for the kids on moving day.
Pack heavy items like books in small boxes.
Make an inventory list to keep track of items.
Hold a garage sale.
DO NOT store flammable liquids inside your moving container
Call Kingcon Storage to schedule delivery of your moving container