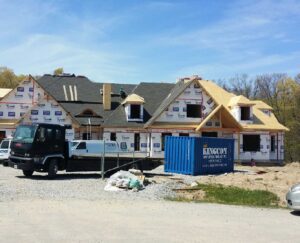 Our focus was to create an easy, convenient, low-cost alternative to traditional self-storage. With traditional storage, there is the hassle of loading and unloading, multiple trips back and forth to self-storage locations, and the cost of renting trucks or vans.
So, how does mobile storage work? It's easy!
Book via phone or through our online quote form. Once booked, we deliver a full corten steel unit to your home or business. Along with low-cost, one of the key advantages is that you can take your time to load the unit. If you need some assistance loading, no problem! We have loading crews that we can put you in touch with.
Once loaded, you can store your unit directly on your property. If you don't want to store your storage unit on your property, you simply give us a call and we can either pick up the unit and store it at our storage facility in Burlington or we can move it to a new location. Moving to a new location is the perfect alternative to high-cost movers.
If you choose to store at the Kingcon facility, you can store short or long term. When you need your unit, just give us a call and we will deliver back to you. Simple!